[ Hey everyone! I thought I'd try something new and have my friend, Mikolaj, write a piece on gifts for men - an apt post for the upcoming holiday season. A mens guide written by a male himself! I hope this helps solve any last-minute gift dilemmas, and if it's any consolation, I'm still the worst at buying gifts for the men in my family. xoxo Beatrice ]
As most of the readers on here are predominantly female I figured I would start delving into men's fashion through gifts. The Holiday season is upon us or about to be (I heard a carol at Park n Shop so it must be official), and so I think there is no better way to kick off this brief series than, by focusing on Jewelry.
Men's Jewelry is somewhat easier to buy than women's. Simply put there are less styles and men tend to gravitate towards certain things. Depending on your relationship I recommend you stay away from rings, not only are they hard to get fitted properly but most guys have a ring that means something; such as a high school graduation ring or be it a wedding ring, so its safer to stray away from this. I'm going to focus on men's bracelets as these are most often worn by guys and tend to have the widest appeal.
So without further ado I bring you my top 5 bracelets for this holiday season in no particular order:
Without a doubt one of the most beautiful pieces of jewelry I have personally ever seen. The gold isn't particularly shiny and has a sort of "worn-in" rustic aesthetic to it that's rugged. It's a practical piece of jewelry in that it can be easily taken off and put back on unlike some of those other lanyard bracelets that just make you want to grab a pair of scissors and cut into a million pieces. I feel it can be worn throughout winter and summer and own 3 or 4 pairs myself and although this may not be to everyone's taste I find wearing one set on your wrist and the other around your ankle adds a fun dimension to the summer look as well as the winter look. Lastly the anchor has vibrant naval roots and for anyone who like myself wears pea coats or shawl-collared cardigans this piece is a natural extension of that naval style.
Naimakka is a small company based in Sweden that specializes in making bracelets out of paracord. Through further research, I found that Paracord often used by soldiers and is famed for its durability. I would recommend this piece for the more "macho" of men don't typically wear jewelry apart from maybe a watch and are outdoorsy. Again the shackle is easy to take off should it need to be removed and the fact the shackle is made of very strong stainless steel adds to the durability of this piece. Finally the fact that there is free worldwide shipping just adds to the lure of it.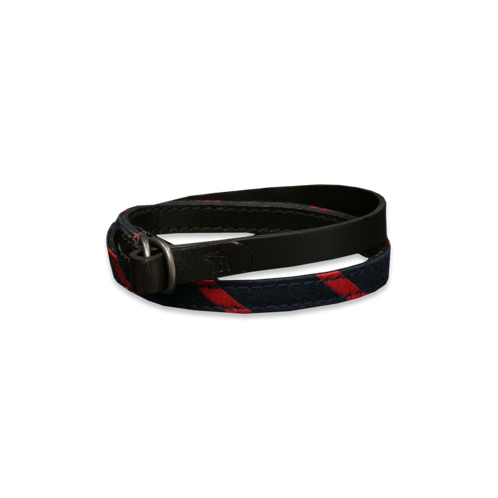 Being very honest you will be hard pressed to find someone who despises Abercrombie and what they have turned fashion into than me. My biggest gripe with them is that they insist on plastering their logo on every single thing imaginable in the most unimaginative of ways. However this is one piece that they make and probably the only thing I own from them, it's a simple well made leather with synthetic detailing bracelet. The moose is imprinted into the leather not in a contrasting color thank god, and what your left with is a very understated piece. I recommend this for someone who is younger, maybe just finished with college or still in high school.
Before someone starts heckling me, yes I know this is technically a cuff and doesn't have an enclosure therefore not being able to be referred to as a Bracelet. It is however another aquatic inspired piece, and by probably my favorite men's casual wear designer. The piece itself is very simply a long silver sliver that resembles a fishing hook although on the slightly more expensive side, I really cant see how this piece would get broken, unless you find your hand caught underneath a tank for some bizarre reason. It's a highly durable piece and I recommend it for maybe a spouse or businessmen, it's a slightly quirky take on a classic piece.
It's Cartier, what else can I say. The quality of the renowned French jeweler is second to none and only Tiffany's has a bigger reputation. It's a very minimalist piece in white gold, and although very expensive I have no doubt this will last a lifetime. Having been a fan of Cartier for a long time I feel they can do no wrong, between their extravagantly original designs and minimalistic approach to men's and women's jewelry in general when you buy this piece for someone it really is timeless.
Mikolaj L.